Annisa and Daniel are Engaged!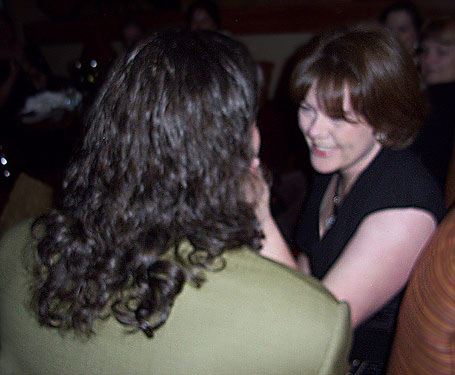 These are photos from Daniel and Annisa's engagement on December 5, 2008 Here is how it happened: Annisa and I were going to a musical with her boss, Jim Shuttleworth, his wife Hazel, and a number of co-workers ("Company" as it happened though I was unaware of this during all of my planning). Jim and Hazel's daughter was in the musical playing the role of Marta. I arranged for Hazel to, while we were having drinks prior to the show, walk up to me and say in her lovely British accent, "Tonight you get to hear my daughter sing but we still have not heard you sing--we want a song." I chose one that I had written for Annisa and sang to her on the last day we had together when first we met. It is 40's style crooning. Here is what I sang...

finally a sound recording for those who have been asking
I've got no time for losing you again
I've got a feeling and I just can't let it end
'cause I know I need you
The time is right to be
In love, love
You know it's true
I'm in love.

I've got no time to hold back how I feel
I've got to show you
A love that's really real, And
I know you feel it
The time is right to be
In love, love
You know it's true
You're in love.

Spring time when our lips meet
Summer rains and the summer heat
Fall and all is beautiful
Winter starts it over again
I've got more time
Time that feels like home
Time just to hold you, to
Watch our firelight glow, and
I know I need you
The time is right to be
In love, love
You know it's true
We're in love.

Immediately her boss handed me an envelope that I had made out of very thick, rich, deep-brown, hand formed paper with bird's nest as a component. I lined the envelope with a vellum with bleached flowers included in the paper. Inside The envelope was a card of the same paper. I had calligraphied my ninth sonnet onto a coffee stained sheet of water color paper which i corner slit it into the card.

Sonnet No 9 (Italian)

It is her song which calls my heart to sing
Sweet melodies eternity to prove
Such chordant strains the world did try remove
Till she rebuked its aimless wandering
With quick'ning heart she plays upon each string
In harmony with all that stirs my soul
She sings of life's eternal love made whole
To this her smile-tis more than I dare dream

Oh will you walk across this grassy plane
Retake my hand my Love our legend claim
Along the river's bank, your hand in mine
To find again a love which knows no time
Sweet lover will you share with me this life
Oh will you come with me and be my wife

I was then handed a small leather box by a coworker. I knelt, and opening the box to reveal a ring I asked, "Annisa my love, will you marry me?"

She said, "YES!"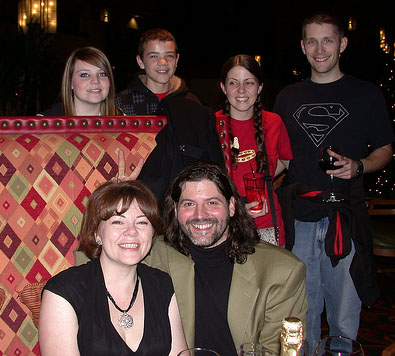 © 2009 Daniel S. Westcott, All rights reserved.